Agriculture helps create magic in the barn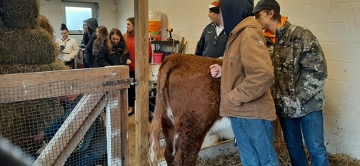 For the first time ever Hereford's agricultural program, with corroboration from local farms, used estrous synchronization and artificial insemination to make the heifers reproduce. Joy and Emma, two female cows who stay on campus during the school, took part in this procedure.  
Lots of planning had to take place for this magic to happen. A veterinarian from Taylorsville Vet, Dr. Tyler Bray, came to Hereford with a distinguished alumnus and farmer Kit Mays a week prior to the insemination to put a Controlled Internal Drug Release (CIDR) into the cow's reproductive tract, releasing a female hormone. Five days later, the CIDR was removed, and they received another hormone shot, boosting their natural hormones. The purpose of this is to reset their menstrual cycle to start estrous over again. Starting estrous allows the heifers to become sexually receptive. In 48-72 hours, the cows come into heat, meaning they will be receptive to breeding. 
Insemination is the act of introducing sperm into the reproductive tract of the female recipient. The students observed the process performed by Mays, so they understood the process they have been learning about in class.  
Students also had to prepare in the classroom. Students had to study bovine reproduction to understand this process. Holly Knight ('24) is in Vet-Science class. 
"We've studied the different reproduction methods, watched videos and had class discussions so we all are prepared and know the terminology," Knight said.  
Knight is very happy that she was able to experience firsthand what they learned in class. She hopes to have her own animal farm one day. 
Ms. Erika Edwards, the agriculture teacher, was tasked with heading this event. Edwards grew up on a dairy farm and has witnessed insemination in cattle, but never planned it. She believes this could be the start of an annual process in which our school helps heifers and other livestock reproduce. 
Principal Robert Covert came to see this once in a lifetime moment. Covert hopes this is just the beginning of a prosperous agricultural program. Hereford recently received funding from the state to expand our program, with the hopes of building a new barn in the next couple of years to house more animals. 
The calves, if the artificial insemination process is successful, will be born nine months from now in mid-September. The heifers will be taken back to First Fruit Farms at the end of this school year and return at the beginning of next school year ready to become mothers and add to our growing herd.