The college recruiting process puts stress on student athletes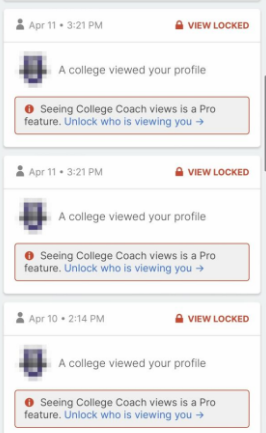 Once a student athlete reaches high school a choice must be made. The choice seems simple; Should I continue playing in college or not? But with the stress, time, cost, and confusing nature of the college recruiting process, many athletes decide it's unachievable. I am currently in the process of recruiting, and it is a very difficult and frustrating process that needs to be changed.  
During the college recruiting process athletes have a lot of things to take into consideration. When going to tournaments, athletes send lengthy emails of all their accolades to as many colleges as they are considering. Sending these emails feels like a shot in the dark, the email is sent and then what. Unless athletes have a club coach with a firm understanding of the recruiting process or pay extra pay for a recruiter, athletes have no clue where to start reaching out or how. Athletes can't hear back from certain colleges until the start of their junior year. This leads to possible confusion when the date colleges can reach out approaches and can feel overwhelming.  
"I am very happy with my decision but it's definitely very stressful and I just wanted it to be over," Ohio State commit Lindsey Moneymaker ('24) said. 
The recruiting process can be very long. Many athletes get a late start and can have a hard time catching up.  
"I would have started my recruiting process earlier had I known it would take up my entire junior year and into my senior year," Frostburg State University commit Baylor Davis ('23) said.  
Another major issue found in the process is the financial investment needed for colleges to find you. There are a few major ways to get a college to notice you: going to recruiting tournaments, going to the actual college for a clinic, or going to an event that has many colleges in attendance and hope to get noticed. The average price for a college clinic is between $100-300, the price for a recruiting tournament can vary but the average cost is around $500, and the large events depending on where you go are normally around $200-300. At face value that may not seem bad, but it adds up quickly the more colleges you look at. This pricing means that not everyone that wants to play sports in college can afford it. This is not equitable.  
Trying to get recruited for college causes rifts in club teams. Everyone is looking at the same colleges, so the competition is stiff. Tensions rise within teams and causes club sports to feel like a stress-filled environment. This can change an athlete's view on their sport. It is no longer for fun and is all direct competition for good schools, often the sport the student athletes once loved turns into something that is no longer worth doing. Many athletes drop club sports in high school if they don't want to play in college. This cis often attributed to the added stress of the recruiting process. 
One way to simplify the process can be using school counselors. This can also help alleviate the stress student athletes are feeling.  
"Keeping in touch with your counselor is a good idea, and researching the school doing the best that you can. It can be difficult but it's also not too bad," School counselor Ms. Sanacore said.  
There should be a more clear-cut path for athletes to reach their end goal of selecting a college. This would save a lot of time, money, and stress.