Hereford course registration changes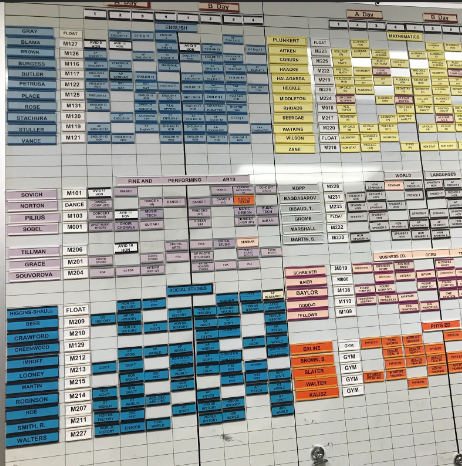 The 2023-2024 school year will look different for some students. Many classes have been discontinued, frustrating many. These classes will be replaced by new courses.  
Senior seminars, besides AP seminar and SAT prep, will no longer be offered to students. Other courses like Astronomy and Forensic Science will not be returning next year. This is due to staffing changes. Courses like seminar and astronomy require teachers to spend time in those classrooms, cutting back on the number of teachers will also mean that some classes will not be able to run.  
"We have to make some tough decisions regarding electives," Assistant Principal Emily Book said.  
Despite Astronomy and SAT prep being discontinued they are still listed on the registration form, leading many to believe that a class they are looking forward to is still happening, this creates holes in people's schedules that cannot be filled by a seminar or SAT prep. 
"We've had the most trouble with half credit seminars being gone, but we've been able match students up with a class," said Book.  
Book and the counseling office do everything they can to ensure students are happy with their classes but sometimes it just can't work out. 
"It's resulted in me having to take classes I really don't want to take," Cassidy Chason ('24) said.  
Rising seniors who have classes with a free space in between are not able to take a seminar in order to fill that space forcing many to leave or early or take a class they don't want to take. Chason had to choose between an elective or taking the math class she wanted to take.   
"This has been really frustrating for me," Chason said. "I don't feel prepared to take certain classes and I'm not sure I'm up for the challenge." 
Hereford is also offering new courses including AP African American studies, and a one-credit AP Physics C.  These new classes are designed to grow departments and offer a more diverse curriculum.  
Other new courses were offered including an aerobics class and a half-credit journalism class; however, the class was not able to run due to lack of student enrollment and staffing changes. None of these changes are permanent, courses like astronomy and forensic science can still come back in the future.