Unsupervised children suffer burns from instant noodles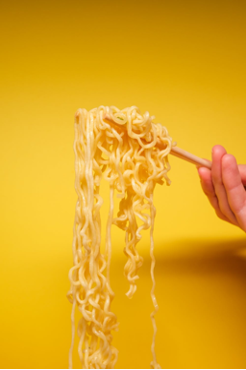 According to a study published on Jan. 20 by UChicago Medicine's Burn Center, almost a third of all "pediatric scald admissions" to the University of Chicago Medicine from 2010 to 2020 were caused by instant noodles.  
An estimated 100,000 children in the US suffer burns each year from food and beverages. With instant noodles, spills when removing containers from the microwave or spills while eating due to the tapered container can cause up to third-degree burns if the scalding contents touch skin. Although the cups are designed to be safe for handling after the noodles are heated, the boiling liquid inside can cause burns with just a loose grip or a misstep.  
"The only burns I've thought about are burning your tongue or your throat," Makenna Brinton ('23) said. "They [instant noodle companies] should put warnings out about what temperature the broth should be before eating it." 
Since the package directions are short, provided with pictures and easy to follow, many young children attempt to make the noodles unsupervised. The research team at UChicago Medicine described the patients in the study as "the age at which children are able to attempt to prepare instant noodles, but not old enough to do so safely." Young children are particularly vulnerable to second- and third-degree burns because of their smaller bodies and thinner skin. 
Sebastian Vrouwe, assistant professor of surgery at UChicago Medicine, recommends adults handle the containers until the noodles and broth are sufficiently cooled. Seeing that unsupervised children are at a higher risk of scalding themselves, adult help would be an easy way to make instant noodles safer for young consumers. Additionally, child resistant microwave doors and changes to instant noodle packaging are ways to alleviate the risk of burns. 
Since children are not always under the watch of their parents, babysitters and older siblings need to be alert and aid in preparing instant noodles in order to minimize the risk of injury.