Students find style in retro shoe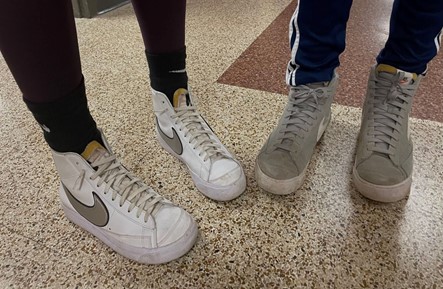 The Nike Blazer '77s were the very first Nike high-top basketball shoes. Created in 1973, the shoe helped Nike solidify its relationship with the sport. Players raved over the sturdiness and the rubber sole, helping with support and traction on the court. 
The shoe first became popular when George Gervin endorsed them. Gervin played in both the American Basketball Association(ABA) for the Virginia Squires and National Basketball Association(NBA) for the San Antonio Spurs and Chicago Bulls. Having him show off the Nike Blazers made a turning point in their popularity.  
After the shoes' endorsement in basketball, other groups like skateboarders were able to find a use for them. The rubber sole helped them stick to the grip tape, and the leather part could withstand the wear and tear of skating.  
Recently Nike Blazers have blown up in pop culture fashion. The shoe has become a popular, budget friendly option for high-tops. Although the laces and leather make them hard to put on, they add a sense of style to normal day outfits, and they are surprisingly comfy. Nike Blazers have also been revamped multiple times in recent years making them less of a basketball shoe. They now have less tension and are less rigid.                                                  
The shoes are becoming intensely popular at Hereford High School, with unique pairs worn everyday. In December 2019 the cost of blazers was $80, and has gone up to $100 to $200 since then. Students enjoy the way they can be customized in different colors from the Nike swoop, to flowers around it, or even a completely different color shoe. It's become something anyone can customize by making it their own style and a shoe any group can lace up. It's easy to see why Nike Blazers are coming back into style.