Records playing their way back into style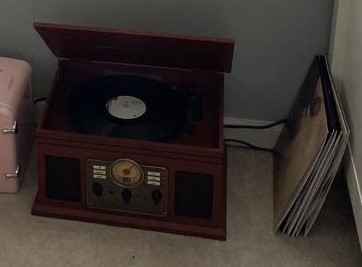 Until 2020 CDs have always outsold records. When the pandemic hit, records came back into style. Record players make a perfect holiday gift for a friend or family member. To find out if it is worth the price, here's the facts to know if that five-star review on Amazon is actually true.  
 Back in 1857, Thomas Edison invented the ¨phonograph¨. Its purpose was to take music and produce vibrations on a disc to be used in labs. 30 years later, Emily Berliner invented the ¨gramophone¨ which produced actual music using those same vibrations. Later record players would hit their peak in the 60's and 70's. 
 Since then, a few modifications have been added. Victrola, a popular record player production company, added a Bluetooth setting to connect a phone and play tunes. They come in many colors and patterns and are also portable, so you can take them on the go.  
 When testing these features out, it was really unique to play music from a phone. Though the quality was not as good as a high-end speaker, it made sound of the songs clear and concise.  
 While playing the vinyls, the quality sounded just like how it would be on a phone. It comes with adjustable volume, speed and tuning. The vinyl quality was much better than the sound of the Bluetooth.  
 The sound exceeds the set expectation, although it does require some care. Records are just like CDs: they can be easily scratched which ruins the sound. When hanging vinyls on a wall use old records to not break commonly used ones. For example, Goodwill sells old vinyls for a low price. It is recommended to clean the record with a dry cloth to prevent fuzz collecting up in the needle. If fuzz does get in the needle, carefully take it off and throw it away. The needle can also wear out, so it may need to be replaced. Needles are sold on Amazon for around $10.  
 Overall, Victrola record players would receive four out of five stars. They are worth the money, since the price is only $60. It makes a perfect gift for the holidays or to purchase one for the house.