Stuller's class persevered through National November Writing Month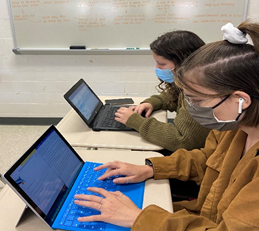 Towards the end of November, Mrs. Stuller's creative writing class worked to finalize their goal of completing a 50,000-word mark in their novel. This goal was part of National November Writing Month (NaNoWriMo), a competitive program where students spend their time writing a novel due at the end of Nov. The students can write whichever genre they please, this helps the writers feel more comfortable. 
Students enjoy this competition, although it can be tough. However, it gives participants a chance to express themselves freely. 
"The class can be difficult, but it provides us an artistic experience," Amelia Clark ('22) said. "Most of us enjoy reading and writing and this class acts like a free period." 
Participants must write an average of 1,667 words a day. The class embraces a term called "word-vomit," a process where students type everything out without editing. This helps them reach their word count and add to their story. 
In the weeks prior to the competition students wrote short stories to prepare their brains for writing a novel. At the end of the month not everyone finishes it, but they submit a rough draft. 
 Mrs. Stuller, the creative writing teacher, shows she enjoys the contest by helping her students and encouraging others to participate. Hannah Harris ('24) won the contest last year and got her book published, but unfortunately due to Covid-19 she wasn't properly recognized. Another student Cole Erickson ('22) didn't win, but he was recognized after the contest. Both attended Goucher College Young Writers Program, a one-week event that publishes novels. 
If students win, the NaNoWriMo publishes their novel and gifts other book related discounts. Hereford competitors love sharing their stories and creating friendships with new people through the contest.