Presenter proves endless possibilities in business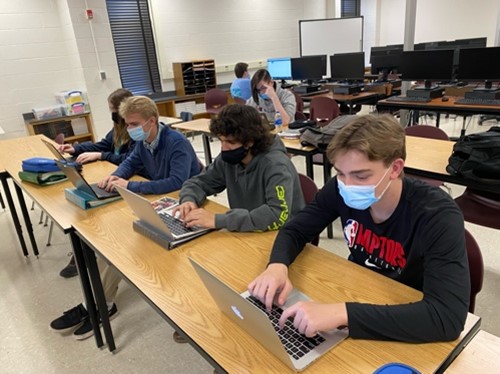 During Wednesday's enrichment, Business students attended a presentation led by a former Hereford student. Matt Lehnert ('13) is a Certified Public Accountant (CPA) who came back to his old stomping grounds to share his knowledge with current students. 
The presentation was structured through questions and answers. For 30 minutes, students provided questions for Lehnert to answer. Kobi Herb ('25) shows a strong interest in pursuing business despite only being a freshman.  
"I took the business class initially because I knew that I was very interested, so when the speaker came in, it made me want to do business even more," Herb said.  
Herb, along with others, was inspired by the presentation, given the presenter was one of us only eight years ago. 
"I saw he was so young and successful because he decided he wanted to pursue business in high school," Herb said.  
There was sad news shared during the presentation when Lehnert found out his beloved keyboarding class was removed from the county curriculum. Lehnert mentioned the best class in preparation for the future for him in high school was keyboarding. Eddie Shamus ('24), shared similar thoughts about this recently dropped class.  
"I type really slow so I feel like that would help me type faster, and that is essential," Shamus said. 
Shamus, only in his second year at the school, has already taken two business classes and plans to take more in the future. 
"Business class, in my opinion, is more essential because this relates to the world and can help with your job," Shamus said. 
The presentation allowed all students regardless of grade to take a peek into a possible future in business courtesy of the Hereford Business Department.