Digital Art provides creative outlet for students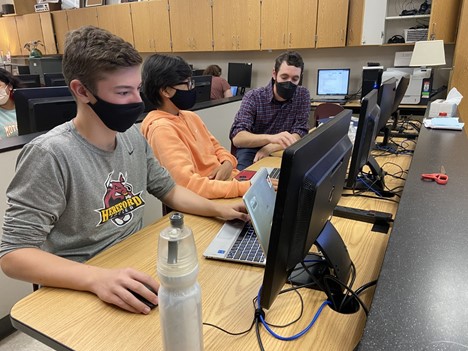 With the end of the first quarter approaching, students in Mr. Samuel Tillman's Digital Art class are beginning their first major project: a film montage. The goal is to represent change through a series of clips.  
Students are taking many approaches, day to night, light to dark, and nature to industry. While they are currently in the planning phase of their projects, students will soon be able to go out and gather content. Even though it is important to have a plan before filming, Mr. Tillman encourages the students to be indiscriminate in their process.   
"Shooting more is never a problem," Mr. Tillman said, "It's better to have too many shots than too little."  
The class hasn't always been focused on videography. Leading up to this project, students explored a variety of mediums such as animation, illustration, and photoshop. Students appreciate the opportunity to briefly touch on a multitude of subjects rather than one.   
"You get to try a bunch of stuff and see what you like, and if you like something you can just dive right into it," Jack Bennett ('22) said.   
Not only does the class appeal to experienced photographers such as Bennett, it also provides opportunities for beginners hoping to explore their creativity.   
"I have always loved film, I thought it would be a cool and unique outlet to try," Annette Mercado-Williams ('23) said.   
By appealing to a broad range of students with diverse levels of experience and providing the opportunity to learn a variety of skills, Intro to Digital Art has created a fun and exciting learning environment for the creatively minded student.