Study and organization tips students can utilize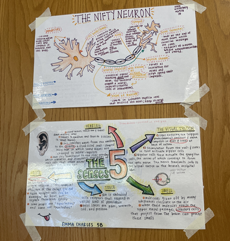 Everyone knows the satisfaction of crossing a task off a list. School gives students and teachers a reason to make a list of all the things they have to do and a reason to stay organized. But how do students avoid losing papers and falling behind on assignments? Here are some tips on staying organized and some different ways to study. 
Organize Your Papers and Files 
The first step in being organized in school begins with binders and sections. Every important paper one collects should be put away in a place where you can go back and find it again. Most students keep dividers in their binders for each class to separate specific papers. 
When taking notes on computers, or doing assignments online, one should always make sure you save your work into labeled folders. It's important to both take notes on a computer and on paper but it's understandable to prefer one over the other. 
 "I find taking notes on paper more helpful, since it helps me remember more when I write things down," Kaliq Davis ('22) said. 
Keep a Planner 
One of the most helpful resources the school provides students with is a planner. Keeping a planner is the key to organization. Students should write out all of their homework in their planner for each class.  
Some students even set reminders in their planners for assignments that must be done or specific things they should to do be successful in their classes. Writing homework in a planner allows students to stay on top of their assignments and not fall behind in classes.  
"I like to use a planner often because I like to keep track of all my work. Then I cross off the assignment when I'm done and that helps a lot" Ava Ackley ('22) said. 
Study What Works For You 
Every student has their own way of studying. They should figure out what works for them and what is most effective. Most students use flashcards to study terms, while others may use mind maps or Quizlets. Try different methods out and see what are the most beneficial.   
Manage Your Time 
One of the main problems students has been managing their time. Some students are athletes or have a lot of AP classes so it can be challenging and stressful to manage time.  
"When at home doing your homework, the best thing you can do is put your phone away," Ms. Blama, Avid teacher, said. "I know it's unrealistic to not go on it at all, so you can set a timer for thirty minutes for doing your work and then a five-to-ten-minute timer for going on your phone".