NEHS supports library re-opening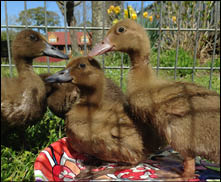 The Hereford Branch of the Baltimore County Public Library will have its reopening sometime between Tuesday, June 14 and 16. The Hereford High School Chapter of the National English Honor Society has been invited to read Robert McCloskey's storybook, Make Way for Ducklings, which is celebrating its 75th anniversary. Other duck-themed activities for children are planned.
The library has been closed since the fall due to a flood.