Little Free Library draws in new readers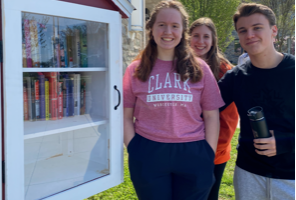 The National English Honors Society is working to increase the number of readers. To accomplish this the NEHS has rebuilt the Little Free Library over spring break. Little Free Library is a global book sharing movement allowing people to take and leave books. The Hereford Little Free Library can be found outside of the auditorium doors. The library has a variety of books, many of which are children's books aimed at creating a new generation of readers.
"Most students don't read any more," English teacher Michelle Vance said. "It hurts my heart."
Little Free Library also brings the community together. When English teacher Mary Stuller first found out about the Little Free Library, she knew that it needed to come to Hereford.
"I thought this would be perfect for parents and younger siblings waiting to pick up students," Stuller said.
Additionally Little Free Library is much more accessible than a normal library and encourages the community to get involved in reading.
"The Little Free Library makes it easy to share your favorite books with others," Vance said. "Maybe your favorite book was 'Good Night Moon' as a kid and now you can share that with others."
The original Little Free Library has been in front of the auditorium for longer than anyone can remember, and the NEHS has hopes that the rebuilding of the Little Free Library will increase its use.
"I rebuilt the Little Free Library because it was looking pretty worn down," NEHS member Taylor Brinsfield ('22) said.
The NEHS encourages everyone to donate books to the Little Free Library.