Why do we hate fruitcakes?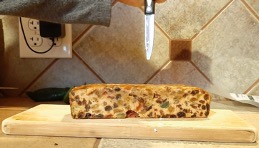 In December of 2012, I excitedly told my parents to turn the TV on to the CBS channel. My eyes filled up with joy as the SpongeBob Christmas special lit up our screen, the one with 3d animation. But I distinctly remembered fruitcake, one of America's hated holiday foods being a major part of the plot. This got my tiny mind wondering, why do people hate it so much? Why is it a holiday tradition? Where did it come from?  
The fruitcake originated in Roman times, when they made fruit cakes as an energy bar for soldiers. It was packed with sugar and long lasting. One of the oldest fruitcakes was made back in 1878, resides in the hands of Julie Ruttinger in Michigan to this day. In England they called the fruitcake a Christmas cake or a plum cake, which is one reason it's related to Christmas, but it also became a holiday special for its long-lasting shelf life. People would bring it to every holiday until it was gone. The fruitcake was popular in the 50's, but then a postal service started mass producing them and shipping them out with a food recipe which dramatically changed the original fruitcake. Which then people began to dislike the once beloved ancient pastry.  
With this mass production the flavor was lost with cheaper recipes and the fruitcake got harder and dryer. The Fruit cake that was first brought to America originated from the UK which made it with alcohol to keep it moist and fresh fruits, but with the loss of these special ingredients made the fruitcake lose its charm, making people hate it increasingly more, labeling it the worst Christmas gift to receive.  
So yes, we hate this classic fruitcake, and with good reason. But regardless, every so often it's nice to appreciate the fruitcake and its history during the holiday season.