Cross-country team crosses the finish line one last time
The Hereford cross country season came to an end on Saturday, November 13th with the Maryland State Championships held on the Bull Run course. York road was backed up for miles with cars yet again this year to accommodate each of the day's eight races. The morning weather conditions consisted of overcast and showers, but as the day went on it cleared up in time for Hereford's 2A races at around 3 o'clock.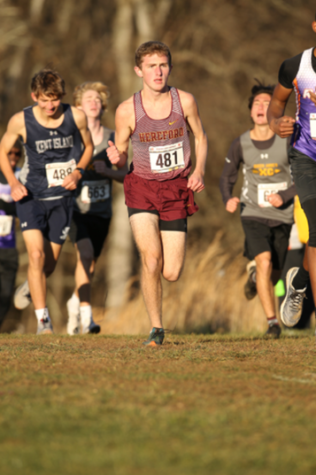 The Hereford boys' team gave an impressive showing on the day, finishing sixth as a team. The seven runners finished as follows: Jack Nicholson ('23) placed 26th at 18:24, Michael Schmidt ('22) placed 27th at 18:25, Liam McCue ('24) finished 35th at 18:47, Kyle Turnbaugh ('22) finished 40th at 19:00, Justin Brown finished 42nd at 19:02, Justin Gasparini ('24) finished 45th at 19:10, and Nathan Mitcherling ('24) finished 52nd at 19:25. 
McCue, who competed in his first ever state meet this season due to its absence last season, reflected on the memorable race afterwards. 
He said, "Around the middle of the race I felt like I wasn't going fast enough, but when I got to the dip my coach was yelling to me that I could catch two Liberty kids that were ahead of me and I started running way harder. I ended up catching one of them and having one of my best finishes yet." 
The girls' team performed extremely well too, securing their 13th state championship for Hereford. Their seven runners placed as follows: Estelle Snyder ('23) placed 2nd at 19:46, Sylvia Snyder ('25) placed 5th at 20:23, Piper Lentz ('22) placed 8th at 20:37, Rebekka Hillier ('24) placed 9th at 20:40, Madison Ward ('24) placed 18th at 21:45, Scarlett Seitz ('24) placed 20th at 21:54, and Sophie McGee ('22) placed 49th at 23:57. 
Lentz, a team captain, has been a staple in the team's success for all four years she has run. Her involvement in the team's state championship her freshman year came full circle on Saturday. 
"All of our girls worked extremely hard this season, so winning the state meet was special to us," Lentz said. "The last time we won states was my freshman year, so finishing out my senior season with another title concluded my time on the cross-country team beautifully." 
Caroline Sabo ('22), who is another team captain for the girls, attended and timed the race. She was thrilled to see her teammates win, especially given the adversity everyone has faced over the past couple of years. 
"It was super rewarding seeing the girls win after the hard work I know they've all put in this season. After last season without competition, watching the team take home the state title meant so much more than it has in previous years," Sabo said. 
Most of the cross-country runners will continue running in the winter with Indoor Track and hope to reach the same mark of success that ended their fall season.