Hereford Teams Head to Robotics World Championship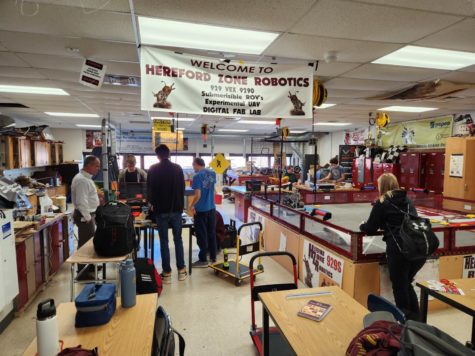 On April 25th-27th, Three of the Hereford robotics teams participated in the Vex Robotics Worlds Championship. It is important to look at how the students in our robotics program have worked together to get this far. Starting last May, teams formed up with the goal to get as far as they possibly could that season titled "Spin Up". These robotics teams range from freshmen in their first year of high school robotics to seniors in their last. 
Now teams 929V, 929S, and 929N, coached by Michael Dodd-O, went to the world championship in Dallas, Texas along with 809 teams worldwide. 
 The teams have been preparing for worlds by practicing every Tuesday and Thursday and have been scrimmaging with other Baltimore County teams from Hereford Middle School, Loyola High School, and Dulaney High School. 
Many of the students have also spent money and free time training and developing their robots. These teams have learned to work together and find each other's skills and faults in order to hone their teams and gain the edge. In the robotics club, students have built a bond as they work together and learn off of each other. 
Previous 929S member, Aiden Zahn ('25) stated "If you want to be successful, you're going to have to work with who you like." 
From 9th-12th each year members are faced with a new challenge forcing them to change their thinking every year. 
"New members will have to overcome this learning curve, but with existing members, a new challenge every year will force them to solve a new problem and it forces you to get out of your same way of thinking," Zahn said. 
With the world championship rapped up, team 929N went 7-3, 929S went 2-8, and 929V went 6-4 in qualifications and entered the elimination rounds. 
Now as students clean up with spin up, they prepare for the upcoming game next season, "Over Under".