B Positive for the Hereford blood drive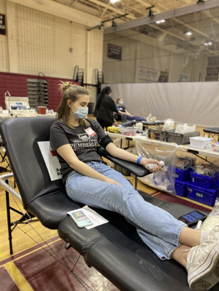 On Thursday March 10, Hereford High School hosted a blood drive which was an opportunity for students to help save a life as well as contribute to the community. Throughout the day, students took their turn to donate blood in the gym. 
"I wanted to donate blood because I know that there is a blood shortage currently and I wanted to be part of the solution," said Cameron Davis ('23). "It positively impacts society and doesn't negatively impact me, so I don't see why I wouldn't do it." 
Students are encouraged to get plenty of rest the night before and make sure that they are drinking plenty of water before and after. Students also had to make sure they ate a good breakfast. These steps are important for students to take so that they can avoid feeling drowsy or weak.  
"I am excited to give blood tomorrow, yet a little nervous because the people that I have talked to which donated blood before, told me that they fainted" said Aubrey Craig ('23). "But I have been hydrating all day so I'm sure I'll be fine." 
After, the blood donations, students were told to wait 10-15 minutes to make sure that they felt strong enough to go back to class. Students were also provided with food such as crackers and cookies as well as juice. It was also highly recommended for students to not participate in physical activity for 24 hours. 
"I sat out during dance class today," said Raegan Fisher ('23). "I was told to keep it easy."  
When asked, most students were motivated to donate blood in order to give to the community and to potentially save a life. Just one pint can save 3 lives. 
"I know someone is benefiting from me giving blood, which is one of the main reasons I wanted to do it" said Milo Kolb ('23).  
The volunteers also played a vital role in the process, and they made everyone feel comfortable and gave sufficient support. They helped provide snacks and allowed students to take their time if they felt drowsy.  
"The volunteers helped me feel comfortable and they were by my side" said Leah Jones ('22). 
Student council also contributed to Hereford's blood drive, as they walked around during lunch, encouraging students to donate blood. This gave many people the idea to sign up and made it easy for them to get on the list.  
"Student council members walked around the lunchroom holding clipboards and asking people to donate blood, so I thought why not, and signed up" said James Evitts ('23).  
The blood drive was a big success, with only two spots left available, meaning there were plenty of students coming and going throughout the day to give their blood, the gym being full of generous students. This was an event for only upperclassman, so next year current sophomores will have the choice to give the gift of blood. 
"Lots of my friends donated blood, and once I'm a junior I will too, I think it's a great way to help out our community" said Khana Blizzard ('25).