Rec Basketball returns after two years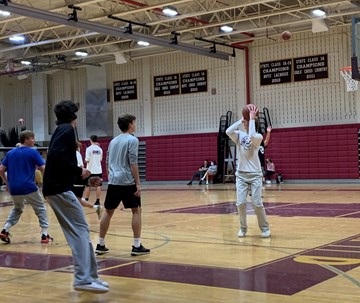 Peter Capan, Reporter/Lead Illustrator
November 19, 2021
With the return of JV and Varsity winter sports comes the long-anticipated 2021-2022 Recreational Basketball league. Following the 2019-2020 season, Rec Ball was forced to take a gap year.  While disappointing, the time off provided the opportunity for returning players to develop and teams to prepare for the hardwood. Students have been able to play pick-up games during gym classes to sharpen their skills, including veteran player, Nicky Reda ('22).
"My goal is to prove a point this year," Reda said. "I'm here to set records and win championships."
Reda was labeled a top ten player in the league in the preseason rankings. The list struck many as controversial. Having not played in two years, many players claim the rankings don't truly reflect the scope of the league. Despite his tremendous growth, that he attributes to his work ethic and trainer, Reda feels misrepresented as he was placed seventh in the power rankings.
"It puts a target on my back, but I still feel disrespected, it gives me something to prove this year," Reda said.
The organization that chose the rankings, @herefordrecballlive, caught heat from its supporters. One of the account managers, Ryan Martino ('22), understands the criticism.
"Rankings are difficult, but [the rec basketball Instagram] has a responsibility to the fans and I'm excited to see where this account goes once the season hits," Martino said.
The Boys Rec Basketball league is divided into two groups. Eighth graders and Freshmen  play together, while Sophomores through Seniors are in the same league. With the 2019-20 season being the last time students have experienced Rec Ball, the current seniors are the only class with experience at the highest level of recreational basketball. Upperclassmen feel this gives them a tremendous advantage.
"They're not prepared. We're simply going to dominate and [the underclassmen] aren't going to know what hit them," Luke Drury ('22) said.
While some take the league more seriously, others see Rec Ball as a way to develop comradery with teammates in a fun atmosphere.
"I've made good friends with people I would have never met without Rec Ball," Kayla Karas ('23) said.
Regardless of why students participate, it's impossible to deny the impact Rec Ball has on those involved.
"I love Rec Ball," Jaden Gaines ('24) said. "I feel like most students feel the same way."
Rec has been notorious for drawing large crowds to games, occasionally outperforming JV or even Varsity turnouts. This is attributed to the large and dedicated fan base accrued over the years.
"Sure, there are some students at [Varsity Basketball games] but when Rec Ball comes, everyone comes," Drury said.
The league is anticipating one of their best years yet, with the gap year building the suspense to unprecedented levels.