"Bulls in a Coffee Shop" back open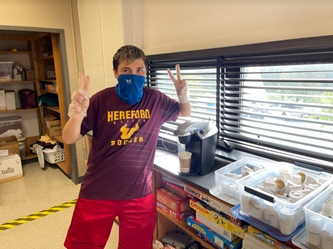 "Bulls in a Coffee Shop" is back open for business in Mrs. Caitlin Duvall's room after a year without in-person school.
While coffee is an essential for most teachers, getting a daily cup isn't always easy. The morning rush prevents staff from making themselves coffee, and that's where Duvall and her life skills class come into play.
Every day during enrichment, teachers place coffee, hot chocolate, and tea orders through a live google form displayed in the life skills classroom. A group of students write down the orders on individual coffee sleeves, and this directs other classmates on what type of coffee to make. The students then deliver the coffee to teachers throughout the school.
Duvall sends the google order form link out two to three days a week, but there are also teachers on a more frequent coffee plan.
"We have some teachers on a continuous order who want coffee every single day," Duvall said.
Not only does "Bulls in a Coffee Shop" provide teachers an extra kickstart to get through their morning, but it also gives students great experience in a job environment. The process requires training from life skills teachers at first, but the students pick up on it quickly.
"I'm more involved in the beginning, but my goal is to fade away and let them be pretty independent," Duvall said.
With a price of just $1.00 a coffee, "Bulls in a Coffee Shop" is buzzing during enrichment every day. Soon enough it will give Dunkin' and Starbucks a run for their money.
"
We use Keurig cups to make a perfect, clean blend."
— Manuel Grothe ('24)