Iron Rooster serves all-day breakfast
REVIEW
A new all day breakfast, southern comfort food restaurant has opened in Hunt Valley, a hot spot for Hereford High schoolers. I went there and graded my experience focusing on service, food, and the environment, each of these categories was rated on a one to ten scale, ten being the best, one being the worst.
SERVICE:
10 out of 10, nothing I could take points off for, nothing I wish they would have done differently.
We were seated immediately upon arrival at 3:33, the server came to table within a few minutes. We were able to order all of our food at 3:42. Kevin was our waiter, he was outgoing, he smiled a lot, and made good eye contact and was friendly; at one point sat down next to us in the booth to ask us how we wanted the waffle burger: with bacon? Egg? How do we want the egg? Kevin told us to like the Iron Rooster Facebook page so we'd get free bacon, which we did, shout out to Kevin. He checked on us three times in between the food being delivered to our table, he didn't hover, and wasn't awkward.
FOOD:
8 out of 10 because I really liked everything we ordered except for the panini.
The water was served in a milk jug, to match the southern style that they're going for. The food is pretty pricy, but, if you get the right thing, it's worth it.
Cinnamon pop tart: The flavors vary by day; when we went, they offered cinnamon or mixed berry and we decided to get cinnamon. By splitting it into fourths it wasn't too much sweetness, but if I ordered that by myself, it would have been extremely rich and there was nothing to help cut the sweetness. On the other hand, it was served perfectly, the inside was warm and tasted like a cinnamon crumble on top of a pie or something. It was topped with powdered sugar and whipped cream. It definitely needs to be washed down with water. This arrived five minutes after we ordered.
Chicken and waffles: This was the second thing that we tried; it was more on the savory side, and it was very tasty, spicy, and flavorful, served with a side of hash-browns, the chicken seemed like it had almost a Cajun seasoning. It comes with three pieces of fried chicken served on top of three waffles and topped with chicken gravy. This was very good, but the hash-browns weren't great. I normally see chicken and waffles topped off with maple syrup, but it was nowhere to be found at the Rooster. This arrived 31 minutes after we ordered.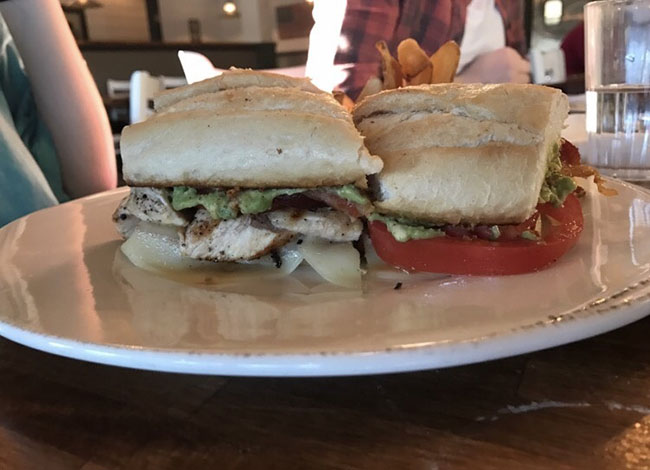 Chicken provolone panini: We were really excited about this; on the menu, this panini is described to have tomatoes avocado and bacon on top of grilled chicken and provolone cheese, yet it was nearly flavorless. It should have been called a sub or hoagie because it was served on a sub roll that showed no evidence of being under a panini press which would have been distinguished by the lines that the press normally leaves. The chicken should have gotten some more love by being marinated or something, the provolone cheese had zero flavor, and we could barely taste bacon; the strongest flavor was the avocado and if you know how flavorless avocado normally is, then you understand why this "panini" was such a disappointment. This arrived 33 minutes after we ordered.
Waffle burger: It just wasn't for me. To be fun and to try to spice it up and make it more breakfast-y we added the egg and bacon on top of it (specifically a dippy egg). It was a fantastic cheeseburger, but with the waffle, was just too sweet for my taste, I would've much rather had just the burger to be on a potato bun with ketchup. I couldn't taste any of the bacon, the egg was just unpleasant; when I tried to add ketchup, the waffle flavor got even worse. The variety of tastes were just not meshing well for me. It was like I just shoved a bunch of things together and hoped it would work, but it didn't. I can't stress enough though, the burger itself with American cheese was perfect.
Chips: The chips were served as a side for two of our dishes: the Panini and the waffle burger. I think that they could've used more seasoning, for example old bay, or to go with the southern comfort food pattern, something Cajun.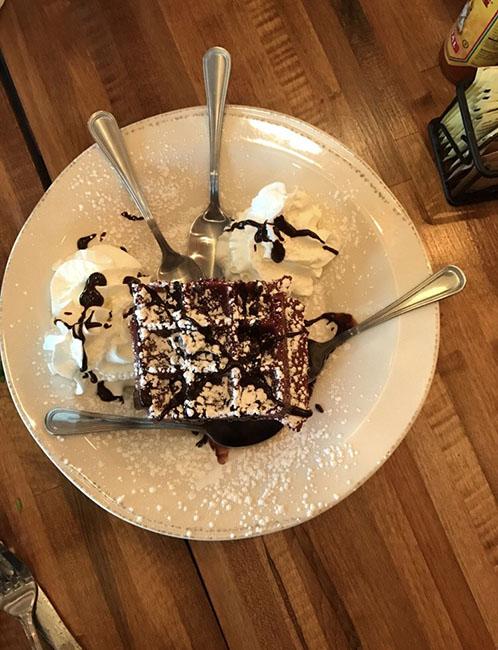 Red velvet ice cream sandwich: Even though we were basically full, we had no problem devouring this. I am SO glad that we ordered it. What you get when you order the red velvet ice cream sandwich is exactly what you expect and more. Two red velvet waffle triangles with a heaping scoop of vanilla ice cream in between, and every edge of the ice cream was covered in mini chocolate chips; at 4:27 it arrived when the song "Here comes the sun" came on, perfection. It was also topped off with powdered sugar and whipped cream.
SETTING/ENVIRONMENT:
9 out of 10
There are tons of windows which were awesome, I'd take natural light over electric any day, but the light shining in our eyes did force us to move tables, so blinds would probably be a good idea for some of the windows.
The color palate of white gray charcoal and faded gray green that covered the whole place was calming and felt modern without feeling cold; they also don't overdo it with the roosters, there are a few but it's not like a grandmothers collection of dolls or anything.
There do have fans and lights that go great with the southern vibe and look like they could be in a barn, minus the dirt and rust.
The entire time there was great background music, not too quiet not too loud. Some of the songs were: Benny and the jets, American Girl, Jack and Dianne, Take on me, Dream, and Beyond the Sea. A total ten out of ten.
Considering all of the criteria, The Iron Rooster gets an 8 out of 10. The service was great, (ask for Kevin!), the environment was friendly, home-y and modern all at the same time. The food was mostly on point; if I had to recommend anything to someone else, it would be to get the cinnamon pop-tart.