Athlete of the Month: The newest addition to Hereford's track team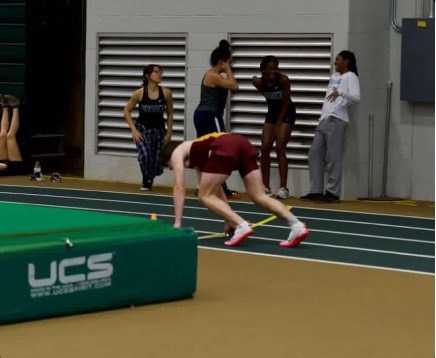 Hereford High's Indoor Track and Field team has been anticipating freshman Ben Wheeler's ('26) arrival ever since he started training with the team over spring break when he was still in middle school. He first started running in seventh grade and competed in long distance events throughout eighth grade. However, once he entered high school, he realized that shorter and middle distances were a better fit.
Wheeler also plays on Hereford's varsity soccer team, and with both indoor and outdoor track, that makes him a three-season athlete. Besides running workouts every day after school and participating in track meets, his training includes weightlifting on his own and at practice.
Wheeler has already made his mark on the team with his outstanding performances in meets. He has won a few races so far and has shown nothing but improvement. During the team's most recent meet at Liberty University, he set a personal record of 36.59 seconds in the 300-meter dash.
Besides being an incredible athlete, Wheeler also prioritizes school by getting all his work done before meets since they can last until 9:00 or 10:00 PM. His reliability as a teammate adds to his importance on the team.
"He inspires a bunch of us because we see him ahead of us, and we don't want to lose to a freshman, so we run faster to try and catch him," indoor track teammate Eddie Shamus ('24) said.
Coaches agree that not many freshmen have Wheeler's ability, and indoor track and field coach Bradley Duvall says it helps that he has had running training in the past because many athletes come in with experience from other sports, but not from track.
"I can comfortably say he is the most outstanding male 9th grader I have worked with in 19 years of coaching," indoor track and field coach Adam Hittner said.
Both coaches spend a lot of time considering what their training sessions will consist of each week and agree that the biggest thing is to recognize an athlete's current abilities so they can improve. When runners are as advanced as Wheeler, you must get creative in training, like putting him at a disadvantage by starting him later, so it simulates racing against a faster athlete.
"I try to make sure we are not doing too much, but there is a lot that needs to be done," Hittner said. "Lots of race experiences need to be had in order to reach that high level he is capable of achieving."
With so much of his high school career still ahead of him, Wheeler has set many goals including winning a state championship title in the 500-meter dash during an indoor season and getting a state championship title in the 400-meter dash during the outdoor season. Beyond high school, he hopes to get an athletic scholarship so he can continue to run in college.