Midterm elections reinforce importance of voting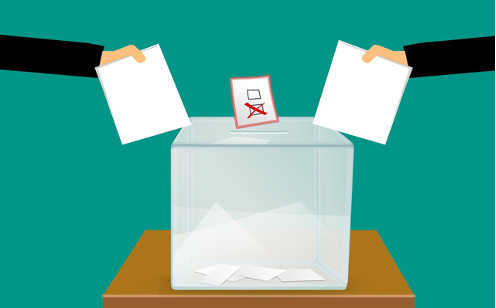 Maryland's executive office is up for election this Nov. as well as all of Maryland's eight seats in the House of Representatives and one Maryland senator seat. Election day is Nov. 8, 2022. 
2022 is especially important as it is a midterm year, meaning state elections do not coincide with a presidential election. The two chambers of Congress are the focus this year and while citizens are not electing a new head of state, the bicameral legislature has the authority to enact laws and each party is vying for a chance to influence legislation.  
"Everybody likes to talk about the presidency, but I think between the governor and your representatives, those are the people who influence your day-to-day life the most," Mr. Ed Martin, Rho Kappa advisor, said. 
Along with congressional seats, the position of governor of Maryland is available. Larry Hogan, the incumbent governor, has served two consecutive four-year terms and cannot continue for a third. Democratic candidate Wes Moore and Republican candidate Dan Cox are on the ballot after winning the primaries July held. If elected, democratic gubernatorial candidate Wes Moore would be Maryland's first Black governor and his running mate Aruna Miller would be the first Asian American elected statewide. 
Locally, Baltimore County Board of Education seats are on the ballot this Nov. Board members are responsible for approving the county's public school budget, improving school facilities and developing policies regarding instruction. Parents and students who can vote should consider local issues when heading to the polls as new board members could result in quick scholastic changes. 
Hereford will have many first-time voters, with seniors of age eligible to have a say in statewide and national elections. 
"I think it's very powerful [to have the ability to vote], because I'm 18 and I actually have the opportunity to make a change," Atoosa Etesamypour ('23) said. 
Though a vital rite of passage, many newly eligible voters experience anxiety due to the frivolous campaign advertisements that increase in number as election day approaches. 
"Figuring out who to vote for is intimidating," Etesamypour said. "Obviously, it's your choice, but there are lots of other opinions out there and deciding who you actually want to vote for is tough." 
Martin recommends students struggling to decide on a candidate visit isidewith.com and take their quiz, which matches users with potential candidates whose beliefs align with theirs. Researching candidates and heading to the polls informed is the best way to ease first-time voter worries.