Star basketball player Brittney Griner stays detained in Russia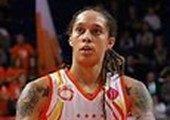 The center player from the Phoenix Mercury if the Woman's National Basketball Association, Brittney Griner, has been detained at the Moscow Airport on February 17th, in Russia . The airport officials arrested her after searching her luggage and finding vape cartridges that were filled with cannabis oil. But it brings the question of why was she there in the first place?
Griner has been playing basketball in Russia on the UMMC Ekaterinburg team for seven years, she plays overseas during the off-season like many other WNBA players so they can continue to earn wages. Woman typically make between $130,000 to $500,000 and male basketball players can make up to tens of millions of dollars (NPR.org – Why Brittney Griner was in Russia and what it has to do with women's basketball).
Griner's presence in Russia is currently even more concerning due to the Russia and Ukraine crises that is getting increasingly more intense, with Russia continuing to bomb and invade the Ukraine they are violent presence other countries don't want to affiliate with.
A criminal case has been opened due to a "large-scale transportation of drugs" that can lead up to a 10-year sentence in jail. Many athletes playing abroad in had already left Russia, but Griner unfortunately got caught during one of the worse times possible due to the conflict (sportingnews.com – Why Russia is holding Phoenix Mercury star in custody and how WNBA has reacted).
The combination of the drugs found in her bag, her being a queer woman in Russia that has homophobic tendencies, and the Ukraine-Russia crises has made Russia more aggressive. Her current trial date is May 19th to see what will happen to her next.