Four women in STEM you should know about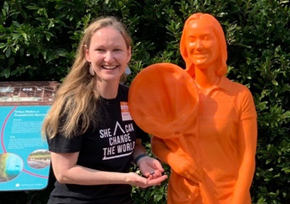 To kick off women's history month, the Smithsonian has partnered with If/Then to install the #IfThenSheCan exhibit. The installation opened to the public on March 5th, 2022, and highlights Women from all fields of STEM ranging from neuroscience to astrophysics. If/Then is an initiative that aims to educate, empower, and inspire innovators in STEM through grants and visual installations. 
This exhibit includes 120 life-sized 3D printed statues of women in STEM from around the globe. In addition to the statues, plaques with their names, professions and a QR code for accessible information about who they are and what they do in STEM. The 3D printing process was done in Dallas, TX, where the women went through full body scans to create their statues. They were welcomed to wear and bring anything that is related to their jobs including rulers, prototypes, and lab goggles.  
These people work to encourage others to pursue their ambitions in STEM by participating in programs that allow them to speak to schools, writing blogs and books, as well as sharing their personal stories about their career path online.  
Ronda Hamm is an award-winning entomologist who studies the science of insects. She works to educate others through research programs and after earning her degree at Cornell University in entomology, although that wasn't her original plan. Hamm used to be terrified of all insects before taking up an internship to help pay for college. She was assigned to study ants and fell in love with analyzing insects. Hamm's story continues to inspire others to try something out of their comfort zone. 
Nikki Sereika is an Aircraft Maintenance Technician and currently works for Southwest Airlines to keep planes running through any types of weather or issues that may occur. Sereika knew she always wanted to work with technology and her father further instilled that dream when he left the responsibility of maintaining her first car to her. In her field, Sereika commonly works with men and hopes to remind women to not be intimidated by a male dominated field. Sereika's story is a welcome reminder to everyone to remember to never be afraid to challenge themselves and pursue what their passions 
Sydney Hamilton is an aerospace engineer and currently works as a Stress Engineering Manager at the Boeing Company. Her job entails testing products for strains and stress so the product and work as it is intended to.  Even at a young age Hamilton knew she wanted to pursue a career in STEM. With support from her parents, she continuously chased this ambition by doing homemade science experiments. Hamilton's story encourages others to pursue their goals and expresses the importance of a strong support system. 
Ritu Raman is an engineer who builds machines for living cells, more specifically, machines that help regenerate cells for health purposes. Raman is passionate about biohybrids and aims to create biohybrid devices that adapt to the human body that help to create a healthier life for people. Raman grew up in Kenya with her parents who are engineers, her inspirations for becoming an engineer today. Raman advocates for the promotion of diverse inventors and her story reminds us that we can achieve any goal no matter who we are or where we come from. 
For more information about the If/Then initiative and their collaboration with the Smithsonian, visit: www. si.edu and www.ifthenshecan.org