Music teachers thrilled to have concerts after 17 months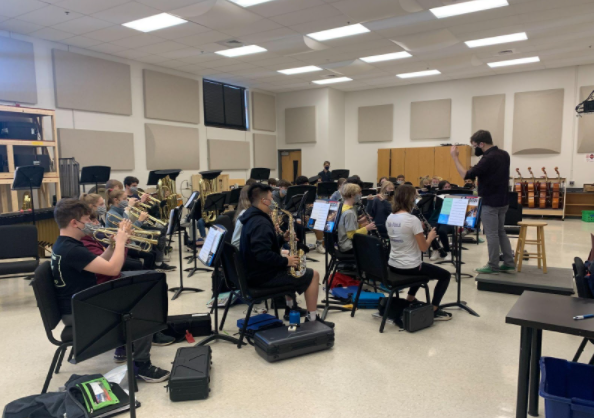 After a year and a half of online learning, music teachers Janet Sovich and Ryan Pilius will finally conduct for a live audience again. On Dec. 14 and 16 the band, orchestra, choir, and steel band hold their winter showcase.
¨I am so happy to be in-person again,¨ Sovich said.
While the pandemic and quarantine were in place, concerts were postponed. With Covid-19 still around, two performances will be held instead of one, the balcony will be closed to limit crowding, masks will be mandatory, and seats will be socially distanced during the performance.
The show will begin on the 14th at 6:30pm. with Concert and Chamber Orchestra; following it will be Concert and Chamber Choir. On the 16th Concert Band and Wind Ensemble play, then finally Steel band. All three groups have worked hard throughout the year. The concert gives students an opportunity to show off their progress, and Mr.Pilius´ his conducting, as this is his first live concert at Hereford High School.
¨It feels so unreal,¨ Pilius said. ¨I can´t believe we haven´t had a concert in almost two years.¨
Pilius started his career here when the pandemic first hit. Before teaching, he was a student intern at Catonsville High School and then became a conductor at Parkville High School for four years. He was also in a rock band and directed a community band before coming to Hereford.
Sovich said she loves working with Pilius. She enjoys his help with the steel band and his dedication towards the music department. Pilius is excited to conduct and have his Concert Band perform ¨Aspire¨ By Mark Lortz.
¨I think the work has many great moments that showcase the band´s attention to detail and musical maturity,¨ Pilius said.
¨Every performance is different, yet equally exciting,¨ Sovich said.
The concert will feature many challenging pieces this year. Students, parents, and faculty are encouraged to come out and support Hereford´s students. Be there for a night filled with fun and festive tunes.