A pop into Ms. Souvouvra's Fundamentals of Art class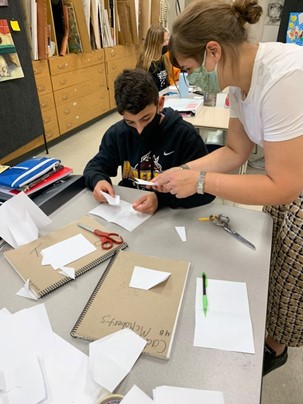 Mrs. Daria Souvouvra keeps up the creativity in her Fundamentals of Arts class, as her students start a new unit on pop up books. Students are asked to make a pop-up book about a story they have written previously.  They are encouraged to be creative when creating their original pop-up books.  
A pop-up book is a miniature book made from paper using tape and cutting out different shapes in order to make images "pop up". This then creates illusions and 3D elements, making the art interesting to look at.  
"I enjoy the challenges of making something I've never done before," Caden McRoberts ('25) said.  "It gives me an opportunity to build on skills I'm not good at."  
Watching a video first, before the lesson, has allowed students to get a basic understanding of how to make one. Then, Ms. Souvouvra takes the students through a step-by-step process on how to make a pop-up book and where to tape certain parts of the paper. 
When asked what students like about making pop-up books, Khana Blizzard ('25) said, "I really enjoy it, they are fun to make, a little confusing but a fun challenge."  
Although the art students are still practicing, they cannot wait to take the next step and make their own, unique pop-up story.