Students fascinate classmates with speeches on unique topics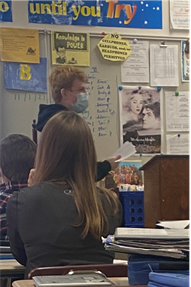 Mr. Rose's underclassmen speech class finished informational speeches with the first quarter coming to an end. The students wrote about topics they were well informed on, to captivate and persuade their audience  
Students wrote 30-seconds to two-minute-long speeches on chosen topics. Using guidelines, they turned in both an outline and notecards of what they said in their informational and persuasive speeches. 
"It helps you learn [more about] how to do public speaking," Aidan Kimball ('24) said. "I have learned a lot on how to construct a good speech." 
With notecards and a visual aid, students stepped up to a podium placed in front of the class and prepared to captivate the class. After speaking, the audience asked impromptu questions, made comments, and voiced their opinions on the speaker's topic and speech. The audience engaged with the speaker and was interested in each speaker's topic and presenting their own. After one student spoke about Taylor Swift's life and music career, debate over her best album ensued. Another student talked about snowboarding and followed their speech by answering questions regarding difficulty levels of different hills and what makes them easier or harder.  
Many students believe the class is beneficial and the skills developed in class directly correlate with other classes they take and help them perform better.  
"[Speech] should be a year-round class," Mason Palmer ('25) said. "Mr. Rose is an excellent teacher and I have amazing classmates."  
Students suggest the class is not too difficult, but it does come with its challenges. They are taught not only speech-writing skills, but how to express themselves and improve their confidence through public speaking trials.