One Love continues floral fundraiser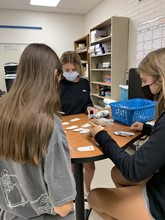 Hereford's One Love club held its annual flower sale fundraiser this week Oct. 18 through Oct. 22. Throughout the week in the morning, at lunch, and during enrichment, members walked around with a clipboard and took orders. Students and staff could purchase individual flowers for $2 or six flowers for $10 and send them with a message to another person in the school. After selling over 350 flowers in the first two days of sales, the club had to end their sales early in order not to exceed the number of flowers they ordered originally.
"The event was super successful," One Love club member Maddie Fuller ('24) said. "I think selling flowers is a fun way to both raise awareness about the club and make people's morning better."  
Club members met after school on Thursday, Oct. 21 to write messages on small tags and attach them to the flowers. Friday, Oct. 22 before school, a small group of club members met to distribute the tagged flowers to each individual homeroom. Homeroom teachers were then instructed to pass them out to the designated students. Each flower sold represents a healthy relationship. One Love hopes to encourage healthier relationships throughout the school.