Fourth and final season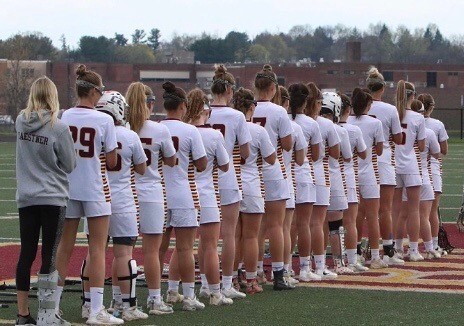 Fourteen-years-old and terrified of the tryout that awaited me the morning of March 1, 2015, I was a freshman trying out for the varsity lacrosse team. Playing with and against girls four years older, four years bigger, and with four more years of experience than me, I was utterly intimidated to say the least. My dad drove me to my tryout. Looking over at my first coach, my biggest fan, and my greatest motivator, I felt nervous and confident at the same time. As we pulled into the school he gave me his last words of inspiration: "Hustle all over the field; take a deep breath and just play your game." The nerves changed to adrenaline as we began to get warmed up. After a week of the demanding and nerve-wracking practices, we lined up to hear the final cuts. I looked up to my soon-to-be high school lacrosse coach for the next four years as she told me with a smile, "I think I'm gonna keep you." Since then I've participated in those spring tryouts on March 1 every year of high school. As each season has passed, I've had good games and I've had bad games, I've won championships and I've lost championships, but most importantly I've grown as a leader, a teammate, and a player.
I'm eighteen-years-old now and I have one month of school left. Similar to all of my classmates, the sentimentality is kicking into high gear. However, on top of the emotion of finishing high school comes the understanding that in one month I'll never wear the number twenty-one in a Hereford lacrosse uniform again. I'll never time my mile on the Hereford track again, sprint across the goal line with aching muscles, sit down as the team debriefs with "story time" from the game before, and I'll never have my coach hand me a quarter as reward for making a game changing play. The hardest thing to accept, however, will be the last time I step on the field to play alongside my high school teammates. Our team has seen each other at our worst and our best. Friendships that have formed through the love of a sport. There truly is no relationship quite like the bond between a team. I've been playing with some of these girls since I was in elementary school and the thought of the last bus ride, the last game, and the last whistle is more nostalgic than I could ever put into words.
Along with my team, I'll miss the endless support I've received from my friends. Hearing the genuine excitement in their voices as they ask me about our game the night before, looking up in the stands to see signs they made, listening to them cheer on our team as we compete in playoffs, and having them there for celebration or consolation as we walk off the field are all things I couldn't thank them enough for.
The biggest thanks I could possibly give goes to my family. My parents coached me in my rec games for years, drove me to my club tournaments every summer, and were in the stands at almost every high school game, no matter where it was played. My aunts and uncles made appearances throughout the seasons to cheer our team on. My older sister made sure to be at my playoff games once she got home from college. My younger sister has watched me play for years, and I'm lucky enough to have her as my own teammate as I wrap up my final season. I owe my thanks to them for teaching me a sport that would become a passion, and giving me every opportunity to pursue it.
I'll be wearing the number twenty-one in a Salisbury lacrosse uniform in the fall. Playing college lacrosse has been a dream of mine since I was little. As that dream unfolds, the familiarity with the community that helped me get there comes to a close. The nostalgia of saying goodbye to the program that I've been a part of forever is bittersweet. I'm sad to leave behind the people that have made a significant impact in my growth, but I'm excited to see what's to come in the future. Looking back on the time I've spent playing on the Hereford field, I'm lucky to have had my teammates with me through the years, along with my family, friends, and the Hereford community.