Summer Movies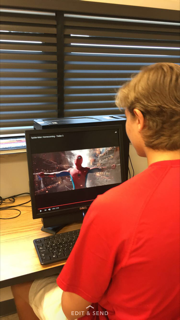 Traditionally, the summer and Christmas time are ideal times for blockbuster hits to be released. This summer there are a number of movies that will be coming out.
"Pirates of the Caribbean: Dead Men Tell No Tales"
            The latest installment of the Pirates of the Caribbean franchise will release on May 26. Johnny Depp will reprise his role as the foolish Captain Jack Sparrow, while Spanish actor Javier Bardem will play the films main antagonist, Captain Salazar. Jack Sparrow will have to fend off his old nemesis Captain Salazar and his ghostly crew, as he attempts to find the legendary trident of Poseidon.
"Wonder Woman"
            "Wonder Woman" is the fourth movie in the DC extended Universe, which is similar to Marvel's Cinematic Universe. However, DC has thrown out various movies in an attempt to catch up with Marvel, none of which were as successful as hoped. "Wonder Woman" could be the first major success for the DCEU as it will explore Wonder Woman's origins during WWI. "Wonder Woman" will hit theaters on June 2.
Cars 3
Pixar's next blockbuster hit is set to release on June 16. The trailer's show an older Lightning McQueen (voiced by Owen Wilson) crashing and losing to the new young Jackson Storm (voiced by Armie Hammer). "Cars 3" will serve as a nostalgic throwback for many.
"Spiderman: Homecoming"
            The new Spiderman film is one of the most anticipated films of the summer, and Tom Holland will star as Peter Parker. The Spiderman reboot is part of the successful Marvel Cinematic Universe. We've already the new Spidey in action in "Captain America: Civil War". However the solo film will explore Spiderman's origins, as he will have to fight the Vulture, who is played by Michael Keaton. The film is set to release on July 7.
"War for the Planet of the Apes"
In 2011 20th Century Fox rebooted the Planet of the Apes franchise. Now in 2017 the third film will release July 14. The film will feature Woody Harrelson as a colonel that attempts to kill off the remaining apes, while Caesar (Andy Serkis) will go to war to fight for the ape's lives.  The film appears to be action packed, as the trailer shows all-out war between humans and machine gun wielding apes.
"Dunkirk"
            "Dunkirk" is director Christopher Nolan's newest film. The critically acclaimed director is known for his films, "Memento", "The Prestige", "The Dark Knight", "Inception", and "Interstellar". Nolan is known for his mind-bending movies, however Nolan seems to be taking a new route, as "Dunkirk" will be a historically accurate war movie. Nolan's "Dunkirk" will explore the Battle of Dunkirk that occurred in France, during WWII. "Dunkirk" is set to release on July 21.