Dunk strives for Olympic Glory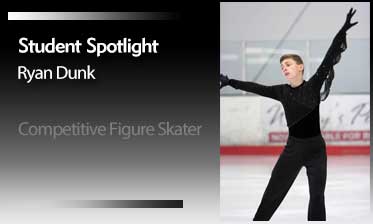 Most high students spend their free time sitting at home binge-watching Netflix or playing on their phone, but Ryan Dunk ('19) is chasing his Olympic dreams.
Dunk represented Baltimore Figure Skating Club in the 2016 Junior National Competition and placed third.
Dunk said nationals was an exciting experience, although it was difficult to shake the feeling of apprehension. It's the big event at the conclusion of a year's worth of strenuous training.
"When you first get there, it's a lot of practicing and you meet all your competitors," Dunk said. "Then when you go up to actually do your program, it's like you've been waiting all year to do it, so it's pretty nerve-racking."
Dunk prepares mentally and physically for each performance, warming up like any other athlete would, despite participating in a sport that isn't so common among his peers. He jogs a few laps and does different dynamic drills, like jumping jacks. His headphones and music help him get himself in the zone.
"Overall, Nationals -was a really cool and exciting experience. I met a lot of people and we still stay in touch," Dunk said.
But figure skating isn't all just the glory of winning competitions; Dunk has to work a lot harder than the average high school student. He trains six days a week, 15 hours in total, leaving school early every day to practice, which puts a lot of added pressure on meeting already-challenging classwork deadlines.
He wouldn't be able to do it all without the encouragement from his club coaches, Priscilla Hill and Chris Conte, who've taught him that, "You're only one away from doing it right. Even if you mess up 100 times, you can still do it right," he said.
Dunk says that he hopes to someday compete in the Olympics, following in the footsteps of one of his greatest inspirations, Michelle Kwan. He's been training since he was eight and now his work is paying off.
"It's actually a funny story, how I got started skating," Dunk said. "I got interested after skating once with my friend, and I tried to copy the good skaters in the middle [of the rink]. I told my mom I wanted to take lessons and she thought it was just a phase and wouldn't buy me skates."
Thankfully, Dunk was persistent in his lessons. His mom finally bought him his skates and look how far he's gone in them, managing to take home a bronze medal at Nationals.