New York field trips inspire prospective artists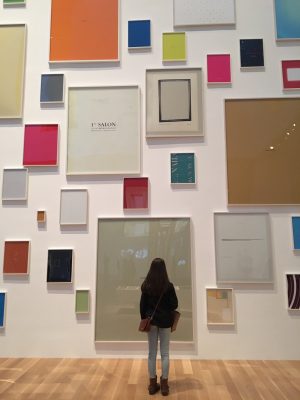 On Friday October 8, art teacher, Joann Bare began distributing permission slips for then annual art field trip to New York City.
The field trips have been going on for about 20 years now. They allow art and photography students to explore the works in the Metropolitan Museum of Art and possibly other locations. "Ms. Bare also takes us to the MOMA (Museum of Modern Art) which changes every few months and has a bunch of work from modern artists, mostly of portraits and landscapes," Isabelle Conover ('17) said.
The $50 trip fee includes a round trip bus ride, entry into the Met, and lunch. New York City offers an ideal setting for pictures. Students always take advantage of this. "We take pictures on the roof with the art at the Met and it's great against the New York City skyline," Conover said.
Students are able to study different works of art from different artists and different time periods. Claude Monet has been a really influential mentor artist to Conover as she builds her portfolio in AP Studio art this year. She really appreciates his large brush strokes and loose style.
Being a senior, this will be Conover's seventh and last fall art trip. "It's really sad some people look forward to hoco in the fall or the homecoming football game, but I always look forward to the art trip," Conover said.