Is Flacco Elite?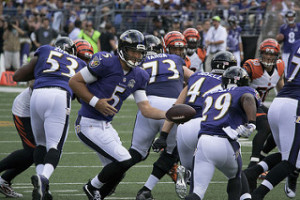 Joe Flacco was drafted by the Baltimore Ravens with the 18th overall selection in the first round coming out of The University of Delaware.
One of the biggest questions in Ravens football, and even the NFL is: Is Flacco an elite quarterback? Even though Flacco won a Super Bowl in 2012, I don't think he's an elite quarter back. Flacco is too inconsistent in the games that Ravens should win with ease.
"Flacco is not elite because he's too inconsistent, unreliable, and makes stupid unethical plays," said Andrew Clark ('17).
Flacco does show spurts of being elite like making the playoffs for five years in a row, six in total. With a record of 10-5, includes 7 road victories, and a super bowl win in 2012 against the San Francisco 49ers.
"Flacco has been soiling it," said Noah Wisner ('18).
This year the Ravens don't have the wide receivers that Flacco is used to having like Anquan Boldin, Torrey Smith, Derrick Mason, and Mark Clayton. Even without having high- rated wide receivers, if he was an elite quarterback, he could work with anyone.
"No Flacco isn't elite, but it's not his fault. His competition makes him less elite," said Social Studies teacher Ed Martin.
I can agree that Flacco can be clutch at times but being clutch and being elite are very different. I can remember a clutch play during the run to the Super Bowl when Flacco had to face the Denver Broncos and it came down to the last drive when Flacco chucked a pass to Jacoby Jones for the touchdown to take the game into overtime where we won.
If Flacco could have clutch performances when the game is down to the last drive, keep a high completion rate, and consistently make the playoffs (which he has done), I would refer him as an elite quarterback, but until then, Flacco is a very good, high potential quarterback.
"Flacco is a second tier quarterback," said Social Studies teacher Rob Greenwood.
Flacco is making $120,600,000 with a $39,000,000 signing bonus. Although Flacco isn't elite, I do think he's worth the money. I think he's worth the money because he took us to six playoffs, won Super Bowl XLVII, won MVP of the Super Bowl, and has one of the best playoff records in NFL history.