Athletes make collegiate commitments
Coaches and Teammates Comment on Featured Athletes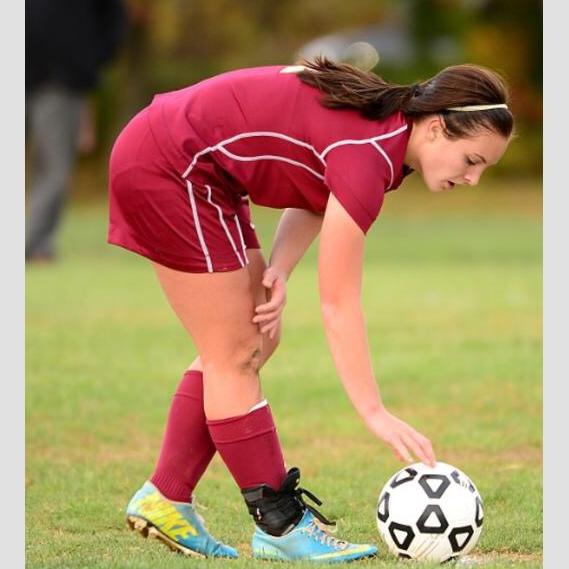 Student, Sport, University

Athletes Say…

Coaches and Teammates say…

Bobby Witt

Football

King's College

 "Hard work and dedication can get you far In life and football has taught me that."

 "Bobby is hardworking, never says no and gives everything that he has," said Coach Ric Evans.

Aaron Geschwilm

Basketball

Washington College

"I am really excited to be playing next year on a new level but with one of my strongest teammates."

 "Without [Aaron] controlling the paint, we would have never been able to win 19 games and advance to the County Championship," said Coach Jim Rhoads.

Lucy Reider

Field Hockey

Dickinson College

"My favorite memory was finally winning the state championship after losing twice."

"Lucy is one of the most hardworking athletes I have ever coached. She will bring great leadership and determination to Dickinson," said Coach Caitlin Mackenzie.

Sam Hooker

Soccer

Stevenson University

"Getting to play Varsity soccer all four years has been really rewarding."

 "Sam is a leader and true team player. She was selected to Honorable Mention all-State as a senior," said Coach Brad Duvall.

Marissa Wells

Polo

Texas A&M University

 "It was such an honor to receive a full scholarship to play polo at Texas A&M in the fall. I am so excited to play in the central area of the U.S."

 "She works very hard with a high intensity level and every time we practice she brings it up a notch," said teammate and brother Brennan Wells.

Alissa Thompson

Golf

Menlo College

 "My favorite memory out of my four years has been qualifying for the State Championship."

 "[Alissa] worked on her game harder than anyone and when she is faced with challenges with the risk of failure, she still chose the challenge without fear of the failure," said Coach Jean Paul Bibuad.

Emma Vicchio

Field Hockey

Salisbury University

"I am excited that I won't be a part of the "freshman 15" but mostly I am just excited to continue my field hockey career."

 "I was very proud of [Emma] when she was selected for First Team All-State. It was well deserved award because she was such a key player for us this season," said Coach Caitlin Mackenzie.

Brody Bartell

Lacrosse

Stevenson University

 "I am so excited for the coaching at Stevenson they made me feel so welcomed and they are the reason I committed."

 "[Brody] never turns away from a challenge and he always rises to the occasion," said teammate Neil Lavietes ('15).

Matt Butz

Football

Dickinson College

 "Our team worked hard over the summer and it was really great to beat Perry Hall in the first scrimmage of the season."

 "Matt is an awesome leader and he leads by example," said Coach Ric Evans.

Gabe Ceribelli

Basketball

Washington College

"My favorite memory was playing in the County Championship. The whole entire Hereford community, young kids, and student body came out to support us."

 "Gabe ended his career with 942 career points, putting him in the record books as the sixth all-time leading scorer in Hereford High School history," said Coach Jim Rhoads.

Mark Couwenhoven

Rowing

Oklahoma City University

 "I think when you have a group of kids that are determined and willing to work hard it will pay off in the end."

 "Mark is the best rower on our team. He is a really great teammate and a fierce competitor," said teammate Paul Leung ('16).

Caitlin Katchmar

Lacrosse

Saint Mary's College

"I am so excited to be on a new team and to have the opportunity to experience a higher level of play."

 "[Caitlin] is the best teammate ever," said Coach Anne Ensor.

Stevie Gerovasilis

Football

Franklin and Marshall College

 "Next year I am excited to compete on a whole new level where everyone already has an edge on you."

 "Stevie is the ultimate teammate. He is the guy that you want sitting next to you," said Coach Ric Evans.

Malcom Johnson

Football

King's College

 "I'm really excited to play where there is more competition and to grow as a player."

 "Malcom goes all out every time," said Coach Ric Evans.

Kendall Rodier

Cheerleading

Stevenson University

 "When we hit the perfect routine in the regional completion it was the first routine that actually brought tears to my eyes because I was so proud of our team."

"She was always encouraging the team and she was really hardworking," said teammate Hannah Popowski ('17).

Santana Mays

Field Hockey

Juniata College

"Our team was like family. I am going to miss jamming out with my teammates more than anything."

"Santana will be very consistent for [Juniata] in the cage next year," said Caitlin Mackenzie.