Shakespeare's birthday inspires related activities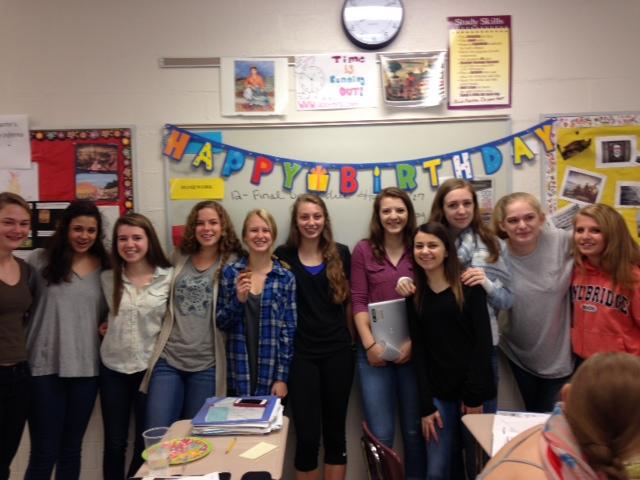 If students were not aware that Thursday April 23 would be celebrated as William Shakespeare's 450th birthday, then they were informed during the morning announcements, when English teacher Charlie Lidard, (wearing a birthday hat), started the day by wishing the Bard a happy birthday.
Shakespeare was born in 1564, but the exact date of his birth is unknown due to incomplete birth records. There is evidence that Shakespeare was baptized on April 26, 1564, so many people assume that he was born in early April or March of 1564.         
Shakespeare is arguably one of the most influential writers and poets to have ever lived. Although it is rumored that Shakespeare was a fraud and that he gained success by copying the ideas of others, the amount of content that he contributed to the English language is undeniable (He created over 1700 words and phrases, wrote 37 plays, and wrote over 150 sonnets)
One reason that Shakespeare is so well known is because of his unique writing style
"Shakespeare was more negative, and he was thick with his words," said Emma Vicchio ('15). "He was special in how he provided information to the reader."
Although most students who encounter Shakespeare's writing are doing so only for school projects, other students, like Maddie Wilkinson ('18), choose to read Shakespeare for fun. Maddie just purchased a 1000 page book full of Shakespeare's plays and sonnets. So far she has read up to page 300. Her favorite play is "Macbeth."
"I like his creativity. If he can't find a word for something he makes his own. He's very clever," said Maddie.
In order to honor one of her favorite author's birthday, Maddie wore a special sash with her favorite quotes from Shakespeare's works
Some English students might cringe when they hear their English teacher say that they will have to read "Romeo and Juliet," "Taming of the Shrew," or "Macbeth."
To those kids who dread reading the complexity of the Bard's words, "If you see past the complexity it's quite interesting," said Maddie.
To express the how his work is still influential today, the English Department teachers put up posters with different questions related to Shakespeare. Students were instructed to post responses to the questions. The English teachers then gave a prize to the students with the best answers.
One of the winners was Joe Donatelli ('15), who answered the question, "Why should we still read Shakespeare's plays in 2015?"
His response was, "To help us learn that a tricky relationship doesn't always mean the end of the world."
Another winner was Patrick Chaney ('15), who wrote a rhyming couplet that read, "An institution cannot teach to love/ for they do not know the words they're speaking of."
English teacher John Raduazzo used the question, "What literary or rhetorical devices have you learned from studying Shakespeare's plays?" Some answers included, "dramatic irony" and "personification".
Mary Beth Stuller's AP English 12 class each read one fact out loud about Shakespeare's life. Some of these facts included that Shakespeare had eight children, the cause of his death was unknown, and that he lived through the Black Death.
The class also learned about the structure of sonnets, and read a few of Shakespeare's most famous sonnets.
Although, at first, reading his works can be difficult, William Shakespeare had a way with words that is rarely matched. If students push past the initial confusion usually associated with his plays or sonnets, the results will be gratifying.
———————————————————————————————————————————
Several of common sayings and many words are derived from Shakespeare's writings. A few of these include:
"For goodness sake" – Henry VIII
"Rant" – Hamlet
"Knock knock! Who's there?" – Macbeth
"A wild goose chase" – Romeo and Juliet
"Assassination" – Macbeth
"Fashionable" – Troilus and Cressida
Leave a Comment